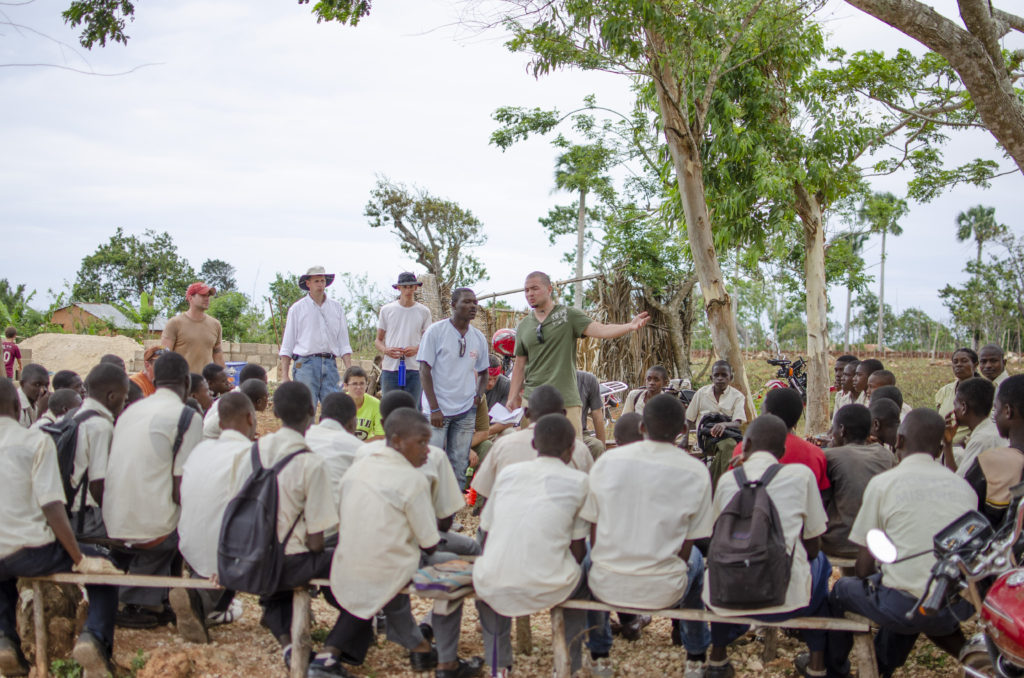 Haiti
In Northwest Haiti, just outside of Mare Rouge, you'll find the Human Care School sitting on a mountaintop. From there it has been shining a beacon of hope for the poor and most vulnerable children in the community.
We were first introduced to our partner, Edner Veus, when he served as a translator for us while doing short term trips with another ministry. Through that relationship we learned how God was using his experience growing up as an orphan child and giving him a vision to serve high risk children in his area. In 2006 we partnered with him, and a couple of like-minded friends, to begin the work and open the Human Care School. As young single men, they reached out to the demographic that was most relatable to them, the young teenage boys of the community. Through the generous financial donations of First Baptist Church in Midland, Texas (you may read more about their contributions here) they were able to purchase some land and build the first classroom. They started with a class of seventh graders, adding a new grade each year. Eventually they were able to go back and start a primary school as well, serving students from kindergarten through graduation, boys and girls alike.
The ministry has grown extensively and continues to provide top notch education to students who would otherwise have no hope of attending or completing their schooling. Currently, the program provides education, discipleship, medical support, and a feeding program to all who have qualified as participants. Many of the students walk from one to two hours daily (each way) to attend. The campus is filled with hope and many aspire to be teachers, pastors, and engineers. The campus is a place where excitement and hope are literally visible. It is truly a light on a hill.
Human Care School (HCS) now provides a full primary and secondary education for grades K-13 and has become the top-ranked academic school in its region based on performance in nationwide testing! Several classes have now graduated from their chosen university programs and have entered the Haitian culture as mature believers in Christ who are trained to live as witnesses for Christ and provide for their families. HCS graduates an average of 20 students per year and HOB works to provide university scholarships, career training, business training, and micro loans for business startups through the Transition Fund.
Child Sponsorship is an essential part of continuing this ministry. Without regular committed sponsors it will be impossible to continue this work. Sponsorship means that we can continue to provide meals for the students daily, give them access to medical care, pay qualified teachers, and have time to disciple the students. At this point there are over 240 students at the HCS. With such a large group of students it has become increasingly difficult to keep detailed information on each student, especially when they, and the teachers, do not speak English! We have had to adapt our expectation of what information we can reasonably attain and shape our sponsorship program accordingly. Moving forward each sponsor will receive information about a grade level in which they are sponsoring a spot. They will get class photos and rosters, information about what the students are learning and how they are progressing, and as many stories we can share about their personal lives and transformational journeys. We hope to keep the personal aspect of sponsorship alive, just in a broader sense. We hope that you will join us in partnering with this life changing work! Become a sponsor today!