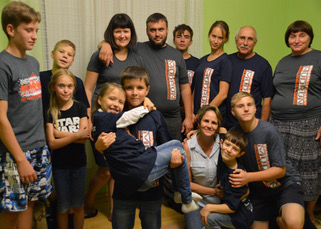 Eastern Europe
Our vision is SO much bigger than what we have been able to do so far. Countless children need a way out of this deadly system. They need hope and they need Christ. Still in Eastern Europe, less than 2% of the population has a relationship with Christ.
Our Partners
Alexi and Tanya  are our partners and the house parents of the first HOB Home Style orphanage in Eastern Europe. Currently 11 orphaned, abandoned, or abused children have joined this family and live in this beautiful home that is designed only to house up to three more. Tanya and Alexi have brought these children into a loving family environment as their own from government orphanages where they receive no nurture or preparation for life. Children in this system are almost guaranteed an early death, a life of prison, or hopeless addiction after they are released as early as fifteen years old.
The kids are now living a life in school, church, music lessons, recreation, and home discipleship as brothers and sisters. Alexi and his adult daughter, Alena and adult son Andrew, spend hours each day tutoring the children who need remediation in their studies.
We met the Alexi and Tanya through missionary friends in Ukraine who knew about the ministry focus of Heart of the Bride. Both Tanya and Alexi became Christians as adults. For many years after her conversion, Tanya and her children prayed for Alexi who was an alcoholic. Years later, he had a radical conversion experience and began a life dedicated to Christ and free from alcohol which is a pervasive bondage that has a significant impact on child abandonment and abuse in Ukraine. Alexi and Tanya lost a baby later in their marriage and from that a desire to help other children was birthed. They did not know how until at church one day they were introduced to the idea of caring for orphans. They spent years pursuing this calling through an unbelievably bureaucratic process. Through funding from HOB, construction began in 2007.
We are praying about the opportunity to provide loving couples as counselors and ministry providers in some of the State homes to provide nurture and hope for the children that won't make it out in coming years. This will take a miracle, but with God it is possible.
---